How to Leverage Your Voice with LinkedIn Newsletters
Since its launch in 2003, LinkedIn has grown in tremendous ways as a social media giant. It grew as a means of finding employment opportunities and has since become a gateway to finding educational resources and sourcing professional growth. With the ability to communicate with your connections through a range of content, the possibilities to grow your network and increase brand awareness are seemingly endless. But, are you utilizing your account to its fullest potential? There may be something you're missing. Let's dive in!
Introducing LinkedIn Newsletters
In November of 2021, LinkedIn added its "Newsletter" feature for users looking to expand their audience by creating a series of articles to share with their network. Originally, the feature was only offered to users via LinkedIn's "Creator Mode" setting where people can toggle their profile on in order to gain access to additional creator tools. The feature was soon made available for use on company pages.
What are the features?
Aside from the ability to publish a singular article to your profile, with the newsletter feature, you can now create a basket of content with regularly published articles, typically about a specific topic of interest. Your newsletter page will be separate from your business page, so you will need to invite people to subscribe in order to grow your following - keep in mind that your current followers on your business page will not automatically be subscribed to your newsletter at the time of publishing.


What else to know before starting:
LinkedIn has minimal criteria for access to its newsletter feature. In order to publish, you will need to assure that you meet this criteria.

Upon your newsletter creation, a newsletter page is automatically opened that will be separate from your business page.

Authors can utilize their newsletter page to preview the content and share it on or off LinkedIn.

You don't have to be logged into LinkedIn to visit an existing newsletter page, but you must be in order to subscribe to or share a newsletter.

You can only have one active newsletter page at a time.
LinkedIn Newsletter Best Practices
Engage your audience with insightful and interactive content by following some of LinkedIn's best practices for its newsletter feature:
Choose a name that clearly depicts the theme of your newsletter.

Upload a logo to personalize your page.

Upload a cover photo that will resonate with your audience - images with faces that are less generic come in handy here.

Create a unique but clear headline for each newsletter article.

Enhance your SEO (Search Engine Optimization) by adding key words in the titles and descriptions so your content will be seen as relevant to the audience you are targeting.

Interact with your audience, ask them questions, and stay engaged.

Ask members to subscribe in your post description.

Broaden your reach by sharing your newsletter content on other platforms or via email.

Set a clear publishing cadence.

Adjust the "Connect" button on your profile to "Follow" to allow page viewers to easily follow and keep up with your content.
How are people notified?
One thing to be aware of when setting up your newsletter page is that your followers aren't automatically subscribed to your newsletter. They must follow or subscribe to the page separately as the newsletter is essentially a separate entity.
Once someone subscribes to your newsletter, they will need to separately follow the author's page in order to see any extra content from them. Upon subscribing, they will be opted in for newsletter notifications via push, in-app, or email; this is similar to how people can opt in for notifications from specific pages.
You've made it this far. Now it's time to see this in action.
You can follow the steps below to create and manage your newsletter on LinkedIn.
Click "Write Article" at the top of your home or business page.

Click "Publish as" (this is available if you are a super admin or a content admin on the page, and you will have to choose which role you are publishing as).

Select the account you wish to publish from.

Click "Next" to be taken to the publishing tool.

Click "Create a newsletter."

Add your details:

Title (avoid emojis here)

Description

How often you want to publish - this is where you can select the date and time to go live.

An image or logo (optional)

Click "Done."

You can then begin to write your first newsletter article.

Once final, click "Next" in the upper right.

Click "Publish."

By default, your connections and followers will be invited to subscribe to your newsletter.
You are now officially a LinkedIn Newsletter author!
Insert that good old sales message - but wait, there's more…
Once your newsletter is published, a window will appear where you can add commentary on the article itself, pose questions to your readers, tag other accounts, or add hashtags. Once you click "Post," your newsletter will be shared to the feed.
Build your network further by inviting your email contacts.
LinkedIn makes it easy for you to build your network by importing a list of contacts you are already connected with on LinkedIn. You can follow the steps from LinkedIn below to take this action.
Click the "My Network" icon at the top of your LinkedIn homepage.

Click "Connections" on the left panel under "Manage my network."

Click "More options" under the "Add personal contacts" on the right panel.

Type your email address in the field provided, or you can choose a service provider from the list below the text box.

Click "Continue."

Next, you'll be prompted to sign into or select your account to proceed.

You'll then be redirected to a list of your contacts who are on LinkedIn. From here, you can:

Check the boxes next to the contacts you want to invite

Click "Add Connection(s)" to send invitations

Click "Skip" if you don't wish to invite anyone

You will then be redirected to a list of your contacts who are not on LinkedIn. These specific contacts will receive an SMS text invitation to join.

Click "Add to Network" to invite them to connect, or click "Skip" if you don't want to send any further invitations.
Curious as to where people can find your LinkedIn Newsletter?

Once you have the feature set up, anyone who views your page can also easily find your newsletter.
Here's a visual representation of what they will see:
You are now viewing a page.




You'll then see categories for "Posts," "Comments," "Videos," etc.

Head over to the "Newsletter" category (keep in mind that only accounts who have the newsletter feature will have this displayed). The latest additions will then be previewed for you.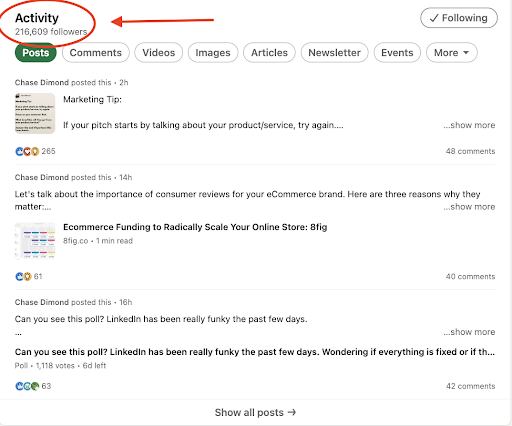 You can see if you are subscribed or not.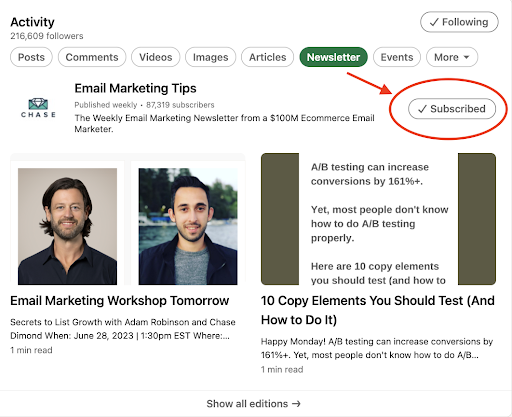 To view all newsletter features, click "Show all editions" under the previews. You'll then be able to view more from this author and interact with their content.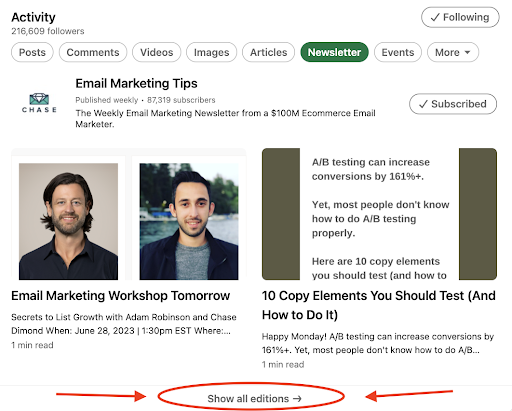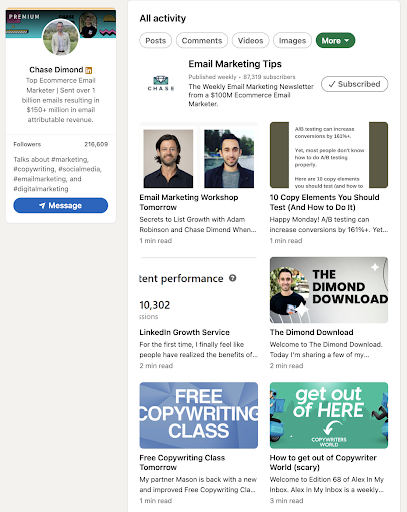 This is where you need to work your magic. You now officially have a newsletter that will feature new and exciting content for your subscribers to view. This is a great way to build authority within your industry and connect on a deeper level with your audience.
You know all the steps, and you want to see it work for you in real time, but you need a little boost. No worries! The team at Citro is here to help with all your content strategy needs as you take the next step in your marketing gameplan.
Ready to begin?
Contact us today,
and let's work together on a masterpiece!